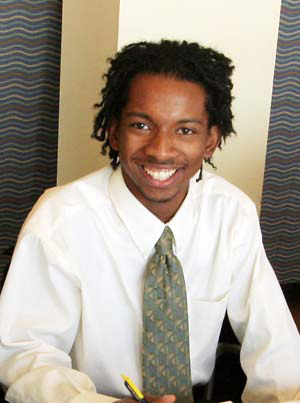 Rodney Nickens is spending a month near Chicago this summer, but not for vacation.
Instead, he's taking part in just one of the many opportunities UC Merced students have to prepare for their post-graduation plans.
One of the advantages of a school the size of UC Merced is that students like Nickens can form relationships with folks in the
Student Advising and Learning Centerand the
Career Services Center, who have tons of information about scholarships, internships, graduate and professional schools and unique offerings.
That's how Nickens found out about the Sophomore Summer Institute.
Starting in June, Nickens will live on the campus of Northern Illinois University in DeKalb, just northwest of Chicago, while taking part in the Institute - for free.
The Institute is hosted by the NIU College of Law. The 5-year-old program has been the only one of its kind operating in conjunction with the Council on Legal Education Opportunity (CLEO), a program sponsored by the Thurgood Marshall Legal Education Opportunity Program, which works to promote diversity in the legal profession.
Nickens and up to 30 other students from all over the country will learn the basics of legal writing, take condensed versions of traditional law school courses, prepare for the Law School Admission Test (LSAT) and take part in a moot court program.
They'll study with NIU professors and law students who have already been through the Council's programs.
It's going to be fun, but it's going to be intense, Nickens said. It's definitely going to be a lot of work. The LSAT is not to be taken lightly. You really need to have in mind what you want to do with a career in law. Just the process of getting into law school is rigorous. You should give it a lot of thought before applying to law school.
I want to uphold the idea of what the law is all about.
CLEO is a really great program. It opens a lot of doors that students might not have - especially underrepresented students, Nickens said.
Students who want more information about opportunities like this - and many others - should visit Student Advising and Learning in the library, room 172, and the Career Services Center in the library, room 127.