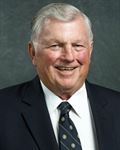 Roderic Park, former acting chancellor of UC Merced and a major campus planner and benefactor, passed away on Sept. 6. He was 81.
A distinguished professor, researcher and administrator who spent most of his career at UC Berkeley, Park was named acting chancellor of UC Merced in September 2006, as the university conducted a nationwide search for a successor to its founding chancellor, Carol Tomlinson-Keasey. He served until March 2007, when Sung-Mo "Steven" Kang began his tenure as chancellor.
During his six months at UC Merced, Park helped nurture the young campus through its critical early development and inspired the creation of the iconic "Beginnings" sculpture that now serves as its focal point. The sculpture – a pair of gently enfolding, stainless-steel arms that soar 40 feet above its base – symbolizes the welcoming embrace the campus extends to its students and community as well as a seed pod that will germinate and provide bounty to the region, state and the world.
Park and his wife, Cathy, made a substantial gift to the university to help procure the sculpture, which was designed and built by noted American sculptor Aris Demetrios.
"UC Merced is deeply indebted to Rod Park for the leadership and steady hand he demonstrated during his tenure as acting chancellor and for the sculpture he so strongly supported, which serves as a lasting metaphor of his vision for our campus," said Chancellor Dorothy Leland. "We mourn his passing but will always find comfort and inspiration in the legacy he leaves here."
Park began his UC career as a professor of botany and plant biology at UC Berkeley in 1960. He served as a department chair, provost and dean of the College of Letters and Sciences from 1972 to 1980, and he held the campus's second-highest administrative post – equivalent to today's vice chancellor and provost position – from 1980 to 1990.
He left the UC system briefly in 1994 to serve as interim chancellor at the University of Colorado, Boulder, but returned in 1997. Among his new duties was to assist in planning the first new UC campus since 1965, later identified as UC Merced.
From 2000 to 2001, Park worked to help establish the UC Merced campus by serving as senior associate for academic development. In that role, he worked with founding Chancellor Carol Tomlinson-Keasey on the early academic planning and recruitment of senior administrators for the campus.
A man of many and varied interests, Park found time to become an accomplished sailor, musician, pilot and vintner while not actively engaged in academic pursuits. In recent years he served as a close advisor to UC system leadership in helping to weather brutal funding cutbacks resulting from the state's budget shortfalls. He also published a book, "It's Only the Janitor: A Handbook for New Academic Administrators," summing up lessons learned during his lengthy career in senior administrative management.
Park is survived by his wife, Cathy, three children, a stepson and eight grandchildren. A celebration of his life will be held Friday, Oct. 11, at 4 p.m. in the Great Hall of the Faculty Club on the Berkeley campus.