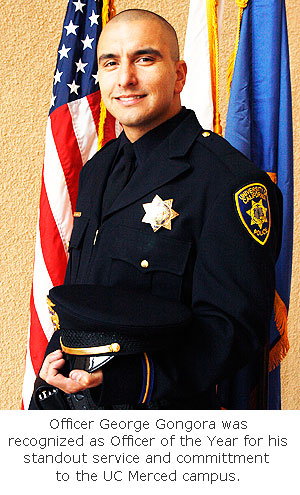 As one of two bicycle officers serving in the
UC Merced Police Department, Officer George Gongora tends to stand out. He likes it that way — it helps him do a better job serving the campus community.
"On the bike, I'm accessible to everybody," Gongora said. "We don't have that barrier of the car or the window; people feel free to come up and ask questions. People still do that in the car, but it's easier while I'm on the bike."
Gongora said the bike lets him move around more easily on campus, too, and access places that are more difficult for a car to reach. Using pedal power on the job isn't a problem for the fitness-oriented officer, who runs and trains in his spare time.
A native of nearby Los Banos, Gongora has gotten well acquainted with the UC Merced campus community since he joined the force in 2007. But a university community naturally has a high rate of turnover — every spring, a portion of the population graduates and leaves, and then new students enter the university in the fall.
"Because UC Merced has evolved so much and continues to evolve, it can be a big challenge to provide the level of service that is both demanded and deserved by our faculty, staff and students," Gongora said. "I think we meet that challenge in the police department by constantly working together as a team. And we're constantly meeting new people."
Gongora has enjoyed the variety of challenges inherent to working in law enforcement since he joined the Police Explorers program with the Los Banos Police Department and the Merced County Sheriff's Department as a teen.
"We did ride-alongs, performed community service and attended regular meetings where officers came in to teach about law enforcement topics," he said. "Something in all of that really appealed to me. I liked helping people."
He attended Merced College and California State University, Stanislaus, and now proudly holds degrees in criminal justice and political science as well as a master's degree in public administration. Before joining the force at UC Merced, he served in the Stanislaus County Sheriff's Department. When an opportunity opened up on campus, he welcomed the chance to get back to the Merced area. He has since married and lives in Merced with his wife, Andrea, and their two dogs. 
In May, Gongora's department recognized his standout service by naming him Officer of the Year.
"We have so many talented and skilled individuals in our department — officers, dispatchers, office staff — that I feel especially honored to have been chosen from among them to receive that recognition," Gongora said.