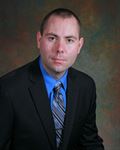 For alumnus Justin Hicks, graduate school at UC Merced was a trailblazing experience.
Like many UC Merced students, Hicks was pioneering a path as he worked towards his Ph.D. in economics from 2007 to 2012.
"At the time, Justin was our only graduate student in economics, so he had four faculty members who helped develop his research," Professor Alex Whalley said. "That attention helped him complete a very high quality dissertation."
As a senior economic policy analyst for The Information Technology & Innovation Foundation, or ITIF, Hicks supports investment in American education and research and development. He analyzes current federal programs and proposed policy dealing with technology and research and development.
"As a deep believer in strong investment in education and R&D, my beliefs and research agenda mesh well with the organization," Hicks said.
More than seven years after the campus opened, UC Merced's graduate programs continue to grow. The campus has more than 300 graduate students conducting innovative research in a range of fields. But the focus on teamwork with faculty remains — as does the interdisciplinary culture for which the campus is known.
The mix presents a world of opportunity to students ready to explore uncharted territory, Hicks said. The university's graduate programs are designed to give students room to make original connections that go beyond traditional academic boundaries.  
"You need an entrepreneurial vigor to make it happen for you," Hicks said. "You will be a trailblazer in many ways, and you must be prepared to be a self-starter."
While the sky can be the limit, that doesn't mean that UC Merced's grad students are set adrift without guidance. Hicks' research received several key nudges from his faculty advisors.
"Dr. Whalley counseled me to change my research agenda toward more relevant topics, like innovation and research and development," he said. "Without this push in the right direction, I would not be where I am today."
UC Merced offers graduate students the opportunity to explore nanotechnology, computer science, cognitive sciences and other rapidly-progressing fields. Advanced degrees in biology, chemistry, physics, psychology, the social sciences and other disciplines are also offered.
Prior to attending UC Merced, Hicks earned bachelor's and master's degrees from UC Riverside. He also worked as a stockbroker before reevaluating his goals in life.
"I went through a personal transformation in 2003," Hicks said. "I decided to leave the private sector and focus on teaching and helping others."
After settling his sights on a Ph.D. in economics, Hicks researched universities that matched his goals. After meeting with the university's economics faculty, he decided UC Merced was the right place for him.