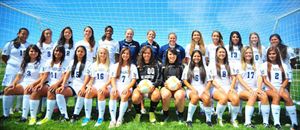 UC Merced's first NAIA women's soccer team is going to have a short season – five home games and nine away games.
That's by design.
New head coach Megan Atoigue said this is the time to set the foundation for the campus's inaugural women's soccer program, and a chance for the team members to cement their commitment to the team.
"We need to get established," she said. Atoigue, who was hired in May, said she was already "recruiting like crazy" for next year, even as she was getting ready for the fall season that started this month.
In the preseason, about 30 women tried out for the team's 22 spots. Atoigue said she was looking for strength, speed and skill, but also for players who see and understand the game.
UC Merced has had a club team for the past four years, but this is its first year having an NAIA intercollegiate varsity women's soccer team. UC Merced added an NAIA varsity women's basketball team this year, too.
Some of the former club players are returning to join the NAIA team, like Sunny Partington, a senior who's studying human biology with plans to work in sports medicine.
"It's a real honor to be part of an NAIA team," Partington said. "I can't wait to see how our competition is going to be this year."
Like Atoigue, Partington is from the east Bay Area and chose UC Merced because she liked the idea of a new campus.
"This is a place of opportunity," Partington said.
This year's team members come from all over California and Hawaii – three players are from the central coast, four from southern California, seven from the Central Valley, seven from the Bay Area and one from Hawaii.
Atoigue, an active high school club team coach and former assistant at Los Positas College, said she always dreamed of being a head coach at a university. She was also intrigued by starting a brand-new program.
"I like the idea, and opportunity, of being able to build a new program from the ground up," Atoigue said.
But all the work that goes into a new sports program is also one of the biggest challenges.
"The behind-the-scenes work is challenging," Atoigue said, "but I'm looking forward to teaching them. I love teaching soccer. I am looking forward to watching them develop and come together as a team, and I can't wait to see how it will all turn out in the years to come."
UC Merced hosts its first home varsity soccer match Sept. 28, taking on Los Positas College. More details can about the team and the match can be found at ucmercedbobcats.com.