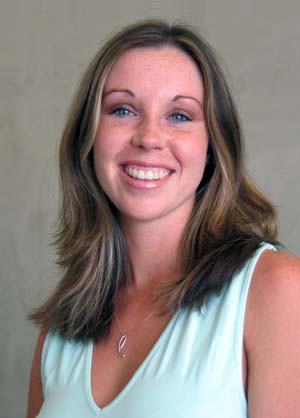 When Lisa Perry started working in the Students First Center last summer, she wore a hard hat and had to push aside a large, plastic sheet to find her computer.
This year, the center is fully functional, helping students with financial aid, admissions and registration questions and forms, campus information and even community information.
Perry's department bills itself as the one-stop shop for student services, and she said that's a rare commodity on college campuses.
"At most colleges, you'd have to go from building to building to take care of business," she said. At the Students First Center, in the ground floor of the Kolligian Library's west wing, "We have the majority of resources and information a student needs to get started here."
While attending CSU, Chico, Perry planned to be a history teacher. But a campus job in student services changed her mind. Now, she's proud that she and her staff had 13,100 contacts with students between September 2005 and May 2006, answering a variety of questions in person, on the phone and via e-mail.
She and her staff always try to answer the phones personally, and if someone has to leave a voicemail, it's answered promptly. That personal touch is something parents, especially, seem to love.
"They get so excited to actually get us on the phone," she said.
Students First is studying ways to help even more, too, analyzing student data collected from contacts over the past school year; preparing fold-out brochures that offer students the basics in an easy-to-keep format; and advertising its services so students know where to go for help.
Perry said the Students First Center staff can help with applications, financial aid forms, adding and dropping classes and a lot of other basic information, which lightens the load for the registrar's office and the admissions and financial aid offices.
"We're trying to be as useful as we can," she said. "We're trying to give students as much information as we possibly can."