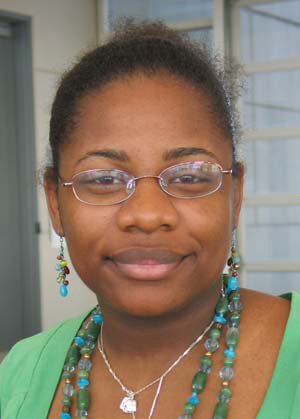 UC Merced wasn't in Jasmine Bell's plans.
She had just moved into the dorms for her freshman year at Xavier University in New Orleans when Hurricane Katrina hit.
When her university flooded, Bell had to make some fast decisions. A lot of universities offered displaced New Orleans students emergency admission, and she had a choice between Stanford and UC Merced.
"They both got me in right away," she said. "But Stanford didn't seem as welcoming on the phone."
Still, she didn't intend to stay. She grew up in California and wanted to be away for college.
That was before she got swept up by UC Merced.
"Between my new friends and the friendly environment, I thought "I could get used to this," Bell said. Suddenly, she found herself in 15 clubs, her classes, a work-study job and research with cognitive science
Professor Teenie Matlock.
"I'm involved in everything," she said, taking a break from fundraising candy sales in the Lantern this week. She and the rest of the
African American Student Associationare bringing at least one nationally known speaker - they won't say who - to address the "Spirit of Togetherness" UMOJA conference at UC Merced on Saturday, Feb. 24, and they have to pay the honorarium. As club treasurer, Bell said she feels responsible for making sure the candy sells.
Bell said she has made such good friends here, they're like family.
"When one of us falls, the others pick them up," she said. Her friends made her slow down - a little. She's now "officially" only in three
clubs, but she's got a
work study jobin the Lantern Café and is hoping to pick up a second job, is looking for internships and considering a trip to Rome through UC Merced's study-abroad program, her clubs, more research and her major in
psychologyplus a double minor in
historyand the newly approved
sociology.
Now, she wouldn't consider leaving UC Merced, which surprised her family. She has even recruited a cousin to enroll here, too.
"It has been a journey," she said of her time here so far. "It's been spiritual and educational, exciting and rewarding. College is what you make it."