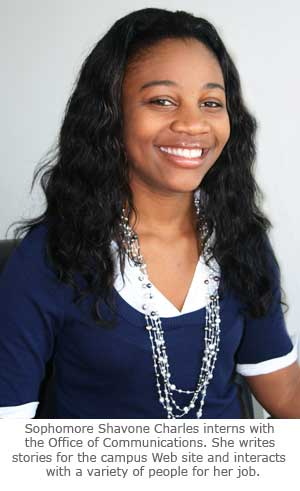 For Shavone Charles, too much is never enough. The UC Merced sophomore enrolled here in fall 2008 with one plan in mind: Do everything possible.
She signed up as a
peer mentor, became active in
Resident Housing Government,chaired a committee for the
African Black Coalition's conference, wrote for the
student newspaperand dabbled in just about every other
clubthat caught her eye.
"I chose UC Merced to be a part of something new, and I purposely over-involved myself from the moment I set foot on campus," she said. "I did it to see what I truly wanted to do, to figure out my passion."
A year later, the
literature and cultures majorsays she's learned her share of lessons. The most important one? School must come first.
"It definitely affected my
academicslast year," she said. "My choices also taught me the importance of being focused and the art of managing my time and prioritizing my tasks. Those are valuable lessons at any stage of your college career, but I"m glad I learned them when I was a freshman."
This year, Charles has narrowed her focus to academics in addition to a few pet projects. Her favorite project is her paid position as an intern for
University Relations. As an intern with the campus' centralized communications team, Charles plays a crucial role writing for the university Web site, taking photos, working at special events and interacting with donors and dignitaries.
She says she applied for the position because she was curious about how the administrative side of campus operated.
"I wanted a chance to experience the big picture," she said. "To find out what's really going on from both sides of the coin."
However, she wasn't prepared for the opportunities she'd get as a c
ommunicationsintern.
"I never thought I would get hands-on experience so quickly," she said. "I'm writing stories for the
Web siteand having dinner with
donorsand
trustees. I never know what I'll be doing next. Where else could a sophomore be in such a position?"
The job experience has also given her a deeper appreciation for the work done on campus by faculty researchers and her fellow students. At a recent event, she was seated at a table with a
graduatestudent working on
roboticsand
Maria Pallavicini, dean of the
School of Natural Sciences. She said the student spoke excitedly about the collaborative
researchenvironment UC Merced offers and the ease at which he's been able to access laboratory space and equipment.
"As a student in the
School of Social Sciences, Humanities and Arts, I couldn't relate to his examples, but I could see from both what he and the dean spoke of, that UC Merced offers a learning experience like no other."