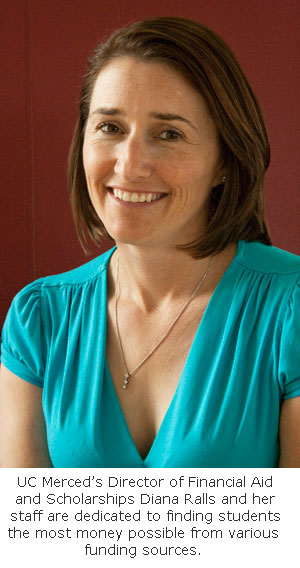 Many UC Merced staff members go all the way back to university's beginnings. One is Diana Ralls, director of
financial aid and scholarships, who first started with the university in 1998. An alumna of UC Davis, she was working in financial aid at Fresno Pacific University.

 

"I noticed the 'UC Center, Fresno' sign while driving one day," she said.  "I stopped in and asked if there was really a UC there."  When a position opened up, she said, "I jumped at the chance to be part of history and shape the future of UC Merced." 
Like any startup, a new university requires a versatile, dedicated staff.
"What I remember most about the early days of UC Merced was the passion and energy," Ralls said.  "We worked and sacrificed a lot, but we did it with one common goal and under the direction of one fearless leader [Chancellor Carol Tomlinson-Keasey, who died in 2009].  We all believed that the Central Valley deserved a UC and we were going to give it to them no matter what it took."
Ralls started with UC Merced as coordinator for K-12 education programs. When the campus was ready to start its financial aid office, she was asked to serve.
"I often wonder, if I had known what immense challenges awaited me, would I have made the same choice?" she said. "I don't know. But when I look back at all my team has accomplished, the difficulties fade into the background, and all I feel is pride."
Ralls said she and her staff aim to provide students the most money possible within the limits of different
funding sources.
"We do our best to simplify the process and ensure that the right amount of money gets to the right students," she said. "I wish students knew how hard financial aid advisors work and how much they care about ensuring that students are able to pursue their educational dreams." Ralls credits her hand-picked staff with tackling challenging situations, knowing the ins and outs of a complicated system, and maintaining a positive attitude, calling them "amazing."
Between her vital job at UC Merced and a busy slate of activities with her two children, Ralls and her husband also manage to plan for the future - something she advises for any parent who can do it.
"Financial aid is meant to supplement a family's ability to pay, not replace it," she said.  "For families who won't qualify for grants and scholarships, a savings account will be critical.
"I want my children to have the opportunity to pursue their education irrespective of cost. It's worth the sacrifice each month knowing that I'm helping to secure their future."
Still, she encourages all families to complete the
financial aid application process. 
"Many people count themselves out without understanding how financial aid works," she said.  "
UC's financial aid programsare some of the most generous in the country and make higher education affordable for anyone who's eligible to attend the university. Apply and then talk with an advisor in person if you have questions."