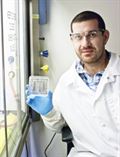 Growing up in the village of Juchipila in central Mexico, Jesus Luna knew exactly what he would do some day.
"When I was 3 or 4 years old, I told my mom I would be a scientist," Luna said. "I told her I would discover something to cure disease."
With several aunts and uncles succumbing to heart disease, Luna knew where he wanted to focus his studies. Today, he is pushing the boundaries of tissue engineering as a graduate student at UC Merced.
Luna's parents came to California's Central Valley, where they picked grapes and tended vineyards. Jesus stayed in Mexico, where he excelled in school. As his parents sacrificed, Luna advanced, eventually earning admission to the University of Guadalajara.
"It was really hard for them to support me in college," he said. "They were sending about half of their salary so I could go to school in Mexico."
In 2002, Luna enrolled at San Joaquin Delta College in Stockton. He moved to the University of the Pacific in 2005 and transferred to UC Merced in 2006, earning a bachelor's degree in biological sciences in 2008.
With then-UC Merced Professor Michelle Khine, he started graduate work using a method that was startling in its simplicity, yet dramatic in results. Khine, now at UC Irvine, found she could duplicate work performed with expensive lab equipment by using Shrinky Dinks, the clear sheets of thermoplastic polystyrene that were popular as a children's toy in the 1980s.
Luna's assignment — use Shrinky Dinks to align heart stem cells recovered from mouse embryos. He succeeded, furthering the project toward its ultimate goal of a "cardiac patch" to repair damaged hearts.
Luna is continuing his work with Professor Kara McCloskey of UC Merced's Biological Engineering and Small-scale Technologies (BEST) graduate program. Along with his lab prowess, Luna discovered a flair for public speaking. He also found a talent for microphotography and graphic design that helped him win "best poster" honors at conferences at Illinois in 2010 and Taiwan in 2011.
He is the lead author on a 2011 paper in the journal Tissue Engineering. Luna's colorful microphotograph of cell tissue is on the issue's cover. McCloskey — a coauthor on the paper — praised Luna's unique combination of abilities.
"His oral presentation skills are excellent," McCloskey said. "I don't know if this has anything to do with English being his second language, but Jesus seems to know which details are important and which to leave out. He has that concept mastered."
Luna, on track to earn his Ph.D. in 2013, said being recognized feels great personally, but also for the attention it brings to UC Merced.
"It shows we're doing research on the same level as MIT, Caltech, UC Berkeley and other schools," he said. "We are creating technology that is inexpensive but highly effective. Some day we may be able to save lives and cure disease using these techniques — not only here, but in developing countries where they lack resources."