Teenie Matlock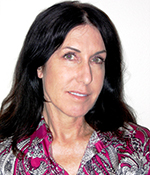 Associate Professor
School of Social Sciences, Humanities and Arts
T: 209-228-2954
Language and technology
Human-computer interaction
Spatial cognition
Language and politics
Psychology of language
Language can have a profound effect on human thought and action. Yet surprisingly little research aims at understanding how linguistic details in speech, text and other forms of communication actually influence thought and action in everyday experience.
Teenie Matlock is a cognitive scientist whose main line of research is psycholinguistics. She is best known for her work on spatial language, especially motion verbs, but in her latest research, she is investigating language in the political realm, specifically, how the linguistic details of campaign ads influence attitudes about the electability.
Matlock is originally from nearby Mariposa. She came to UC Merced as a founding faculty member in 2004 from Stanford, where she was a post-doctoral researcher after completing a Ph.D. at UC Santa Cruz. Her research is widely published, and she has the expertise to analyze the semantic details of written and spoken discourse.
Some of Matlock's research is applied. She holds a U.S. patent for designing a small hand-held device to enable rapid symbolic input, and often consults on the design of web-based applications and user interfaces, and she is currently investigating how people tag information "objects" in Web 2.0 applications.