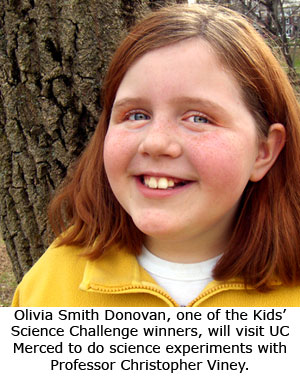 Maple seeds, as they twirl to the ground, could provide a better model to deliver humanitarian aid. One fourth grade student, with the help of a UC Merced engineering teacher and researcher, will try to find out.
Nature's designs captured the imagination of Olivia Smith Donovan, an East Coast fourth grade student who will be coming to UC Merced May 13 and 14 to conduct experiments with engineering Professor
Christopher Viney.
The visit is part of the Kids' Science Challenge, a national contest that allows third through sixth graders to submit experiments and problems for scientists and engineers to solve. The challenge is sponsored by the National Science Foundation (NSF) and the Pulse of the Planet radio show. This is the event's second year.
"Frontiers in research can be closer and more accessible than many people realize," Viney said. "And kids are particularly adept at having creative ideas and asking good questions."

Donovan's upcoming collaboration with Viney reflects UC Merced's mission to seek innovative solutions to some of the world's challenging problems and to serve the community through academic partnerships.



"The Kids' Science Challenge offers an innovative model that lets children pose research questions and suggest experiments to be conducted by real scientists and engineers," said Sandra Welch, program director in the Informal Science Education program at NSF.
"Integrating traditional and new media – including science radio broadcasts, podcasts, and blogs – to engage kids in science challenges will help guide other educational efforts in the future."



Donovan, from Wilmington, Delaware, won the "Bio-Inspired Design" category. She will be on campus May 13 and stay for a couple days to conduct experiments.



Her proposal is to research whether maple seeds can be mimicked and used as a model to build containers that could be used to distribute humanitarian aid packages and by people needing to get into remote areas. If so, such a design could eliminate the need for parachutes. Donovan needs to figure out if people would get too nauseous to be dropped, spinning to Earth and if this model could work for dropping packages. Viney and other scientists judged more than 400 proposals in the Biomimicry category before settling on Donovan's idea.




Viewmaterial relating to the Kids' Science Challenge contest.



The Kids' Science Challenge winners and scientists will also be featured on Pulse of the Planet's broadcasts and podcasts on www.pulseplanet.com. Pulse of the Planet is broadcast over 320 public and commercial radio stations around the world, reaching one million listeners daily. The challenge's other winners will research the ability to play sports on Mars and water pollution.