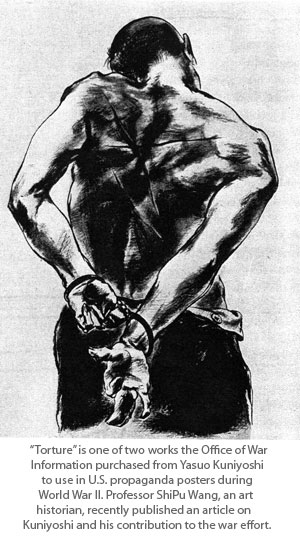 As an art historian,
ShiPu Wangof the
School of Social Sciences, Humanities and Artshas spent years examining artworks and documents in museums and archives around the world. Going through this oft-exhausting research process enables him to unearth artists and visual materials that deserve further study and to produce critical scholarship that advances our understanding of our visual culture and history.
One of his most recent publications, 'Japan Against Japan'  U.S. Propaganda and Yasuo Kuniyoshi's Identity Crisis, is a culmination of six years of research on an émigré Japanese artist who was a prominent painter in prewar American art but has now been largely forgotten. The paper has just been published in the spring issue of American Art, the scholarly journal of the Smithsonian American Art Museum and one of the preeminent publications for new research in American art history.
Wang, a founding faculty member of UC Merced's
Global Arts Studies Program, examines the underlying contradictions in the work of Yasuo Kuniyoshi (1889 - 1953), particularly his anti-Japan posters created for the Office of War Information, the U.S. war propaganda agency, and how these powerful images reveal the artist's identity crisis and the sociopolitical storms he weathered during World War II.
A few short days has changed my status in this country, although I myself have not changed at all, Kuniyoshi wrote, as he became an enemy alien in America due to Japan's attack on Pearl Harbor.
His statement reveals an astute foresight into a new historical period, in which he had to grapple with his racial and national identity vis-à-vis his birth country and adopted home. The U.S. government's enlistment became a double-edged sword, for it simultaneously recognized Kuniyoshi's American artist status as the basis of enlistment and reinforced his Japanese-ness that rendered him the enemy. His war posters became critical loci where the artist confronted vexing issues of allegiance, loyalty and self-preservation through his highly charged imagery.
This article publishes Kuniyoshi's largely inaccessible war work, subjects it to a nuanced analysis, and situates it in the context of American war-time politics, commented a reviewer of Wang's essay. It represents a major contribution to the understanding of this pivotal figure in Asian-American art history.
Wang's publication is a great example of the diversity and quality of
researchconducted by UC Merced
facultythat extends beyond the laboratories on campus.
Wang is continuing his research on American art in a global context, including a current project on American cultural diplomacy and its impact on Asian art during the Cold War, which was awarded a Pacific Rim research grant from the UC Office of the President. He has also created innovative curriculum for UC Merced students. His GASP 141 History & Practice of Photography, for example, combines scholarly and creative activities, and it offers a
Web sitewhere students exhibit their work and engage in a constant exchange of ideas beyond the classroom. The site is supported by a grant from the University of California Institute for Research in the Arts.