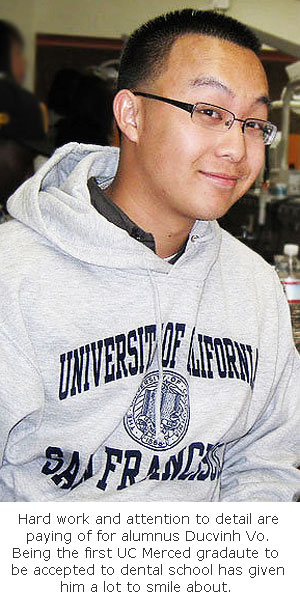 When he walked with the UC Merced graduating class of 2009, degree in hand, Ducvinh Vo was part of a larger group of students who had spent four years making history as the university's "pioneering class." When he walks onto the UC San Francisco campus this September, he'll take that pioneering spirit with him to make history on his own as the first UC Merced graduate to be accepted to dental school.
"I am absolutely honored to be the first UC Merced graduate gaining acceptance to dental school," Vo said. "I hope to pave the road for future students who are interested in the dental profession."
Vo's dental school application process stretched across two months and involved submitting two applications to almost all of the 19 schools on his list. Most of the schools required two applications: the Associated American Dental Schools Application Service, which is a standardized general application common to dental schools, and a specific application to each institute. 
It was time-consuming and tedious, but Vo's hard work and attention to detail paid off with nine invitations to interview and three acceptance offers, including the coveted offer from his first choice, UCSF. 
"I was absolutely ecstatic," Vo said of receiving the offer. "UCSF was my top choice for various reasons, including geography, academic reputation and research opportunities. Although I am a bit nervous, I am excited to move to San Francisco and begin a new chapter in my life."
Vo seems drawn to situations where he gets to start something new. He chose UC Merced for his undergraduate studies because he recognized that by attending a brand-new university, he would have the opportunity to shape the campus and establish tradition. 
Having always been interested in a career in health care, Vo said he did a lot of exploration and discovered that dentistry was a great fit for him. 
"Dentistry allows me to cultivate a vast combination of my interests," he said. "I love to meet and interact with new people; I like working with my hands; I want to apply my passion for science in a meaningful way that will help others; and last, but certainly not least, I enjoy teaching."
Without a program on campus to support his newfound passion, Vo had to create one. Fortunately, he was in an environment that fosters just that sort of thing. All of the clubs and organizations on campus were built from the ground up by the students, so during his senior year, Vo founded the Pre-Dental Society to provide a forum where dental students can share ideas, organize events and be guided on their road to the dental profession.
"UC Merced offers a dynamic range of opportunities perhaps nonexistent at different institutions," Vo said. "The smaller class sizes also allow for a personalized approach to learning. Professors here know you by name. One-on-one interaction with your professor is a rare commodity at larger universities."
"You are the engineer of your own education. My dream of earning an opportunity to pursue my passion would not have been possible without my own perseverance and the support from individuals around me."