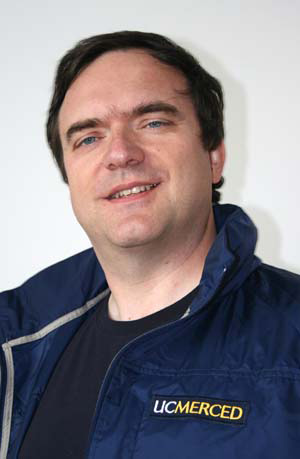 Engineering professor Christopher Viney's 2004 research into hippo "sweat" and its possible benefits to humans raised eyebrows and curiosity worldwide when a local news story was picked up by the Associated Press. Viewers as far away as Japan learned about his work studying the natural antiseptic, water repellent sunscreen made by hippos skin
Now, he has been given the chance to share his findings and enthusiasm for science with the world when he visits Africa this month.
Viney studies biomolecular materials and looks at ways to design materials based on nature's principles, especially polymers and liquid crystals.
"I think people do see the relevance in finding knowledge that will make the quality of life better," Viney said of the attention his research garnered.
In August, Viney will embark on a 17-day adventure to Africa, including 10 days in South Luangwa National Park in Zambia - in the company of a National Geographic television crew. Where his original experiment involved gathering sweat from the floor of a hippopotamus pen at Fresno's Chaffee Zoo, this time Viney will have one of National Geographic's thrill-seeking hosts collect the sweat samples from the notoriously aggressive hippos. Viney will then analyze them on the spot.
"It's a unique opportunity," Viney said.  "The amount of sample that can be collected in a zoo is very limited, and this park we are going to has a higher concentration of hippos than anywhere else in the world."
The few things he isn't looking forward to are the number of planes he will have to embark on just to get to the secluded habitat, the "6 pounds" of medical supplies he has to bring with him because of the remoteness of the site, and missing his daughter's 13th birthday.
But the opportunity to visit Africa was too good to pass up. For Viney, the trip to Africa will be a homecoming, too, because he spent much of his youth in Cape Town, South Africa.
Viney convinced producers to allow him a three-day break to visit the home he left 30 years ago and give an outreach presentation about UC Merced and the importance of higher education. Then it's off to Zambia.
"I'm very lucky to participate in this in one of the last unspoiled regions of the world," he said.