Meng-Lin Tsao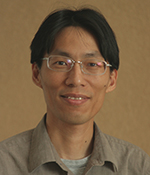 School of Natural Sciences
Research Interests
Professor Tsao's lab researches the interface of chemistry, biology and medicine using interdisciplinary research methods, including:
Organic synthesis
Phage display
DNA library construction
Protein engineering, expression and purification
Bioconjugation reactions
Proteins and polypeptides are important molecules that play essential roles for virtually every biological process in all known organisms. The complex biological functions of proteins result from polymeric combinations of twenty common amino acids. Professor Tsao's lab is developing novel biological materials with new chemical functions, achieved through screening a properly designed phage-displayed polypeptide library to isolate phage particles that exhibit unique catalytic activity and specificity to organic reactions.
He is interested in introducing chemical modifications into proteins by replacing common amino acids with unnatural amino acids at chosen sites of the protein. This can provide useful tools to study protein functions and create proteins with new or enhanced properties. For instance, vaccines against self-antigens can be developed by the site-specific incorporation of immunogenic unnatural amino acids into target proteins at proper sites.
Education
Ph.D., 2003 — Ohio State University
M.S., 1993; — National Taiwan University, Taiwan
B.S., 1991 — National Taiwan University, Taiwan